Come on into the Den & Game Room. There are lots of things to do to help a cat keep in shape!





We can walk on the treadmill. . . .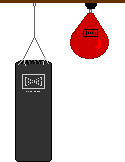 Punch the punching bag. . .










or lift some weights!






Let's turn on some tunes while we're working out!






How about a game of pool?






Or is pinball more your game?


Back to the House